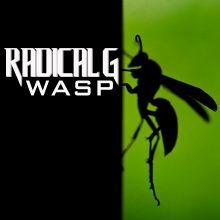 release date:
April 15, 2013
share:
RADICAL G
TRACKLIST

1. Wasp (Original version)
2. Wasp ( Al Ferox Swarm Remix)
3. Wasp ( Ryogo Yamamori's 951Beat Remix)
4. Wasp ( George Lanham Remix)


RADICAL "WASP EP " >> PRESS REPORTS / REVIEWS !!!

HYPONIK (INTERNET - UK) : George Lanham remix is big!

IMMERSED AUDIO (BLOG - UK) : The original is incredible, pure club material.

MIXSIDE (INTERNET - SPAIN) : Great stuff!! Thanks!!

RECORDER (HUNGARY) / KULTBLOG (BLOG - HUNGARY) / IKZ (BLOG - HUNGARY) –

FREELANCER : Woah, Lanham's remix is a killer! :)

SHAZAM / RESIDENT ADVISOR (INTERNET) : NICE.

SKIRMISH CORK (BLOG - IRELAND) : Absolutely cracking release. Heavy from start to finish.

ANN D.HEADCHARGE / BCR RADIO 103.1FM (SHEFFIELD, UK) : Superb EP - straight in
there with track 2 or 4 for the floor.

CHRIS NORMAN 313RGB - FNOOB (INTERNET) : Great EP…

DARREN RICE HEAVY REEL / BEAT AT WORK / SATURDAY SELECTION - BEAT 102-103FM

( IRELAND) : Strong release… Original and Yamamori mixes will be on rotation with me.

DR. HOFFMANN BLIND SPOT - PRESTON 103.2FM (PRESTON, UK) + 60 FM & ONLINE

RADIO STATIONS INTERNATIONALLY : Loving George's remix!

DVNT MANTIS RADIO - DARKFLOOR / FUTURE-MUSIC.CO.UK (INTERNET - UK) : Big
London underground techno vibes on Al Ferox's swarm remix. Full on. Lanham's remix also
goes full strength - driving warehouse thump.

FABIAN BIRKE : PLAYLIST MANAGER - BLN 88.4FM (BERLIN, GERMANY) / BLN.FM

(INTERNET) : For radio play, thanks.

HARRY AVERS NOICE! SHOW - PROTON RADIO (USA) : Really cool analogue sounding
stuff.

JUSTIN ROT ROTTERDAM ONDERGRONDS TALENT : Will drop the Lanham remix for sure!

LEE HOLMAN KAWL / FEROX / NIGHTVISION / ESCALATORS (IRELAND) : Nice heavy electro
style on this one. The original is best for me from this package…

LUKE CREED BATTERED RECORDS / GOBSMACKED / WIRED UP : Thanks, really nice
EP… will support on Wired Up radio
.
MR. JONES UNSUBSCRIBE (WITH DAVE CLARKE) / THE PUBLIC STAND (NETHERLANDS)
: Oof I like the original version. Evil sound with a nice drive to it.

NORMAN NODGE BERGHAIN / OSTGUT TON : Reminds me of some early Terence Fixmer
stuff and the tracks he did with Douglas McCarthy. Techno with EBM-flavour. I like that.

Q'HEY PORNOGRAPHIC / MB ELEKTRONICS / RHYTHM CONVERT / OMEGA AUDIO : Cool,
hard sounds on George Lanham.

RITZI LEE :I love the Langham mix!

ROLF MULDER THE PUBLIC STAND / STUDIO 80 (INTERNET - NETHERLANDS) : Radical
shit! 5/5 Al Ferox and the original do me well.

RYUJI TAKEUCHI LOCAL SOUND NETWORK / MASTERTRAXX : George Lanham remix is
massive. Support.

SAMUEL L. SESSION BE AS ONE / SOMA / MUSIC MAN : Ohhhh - body stormers full
effects - will try to use it.

SASHA CARASSI DRUMCODE / DRIVING FORCES : Will try Ryogo Yamamori 951Beat
remix!

SUBMERGE SUBMERGE RECORDINGS / IMPACT MECHANICS / MOTE EVOLVER

(CHICAGO, USA) : Nice release, thanks.

TOMOHIKO SAGAE RODZ-KONEZ : Cool!!

ADAM JAY MONOID / ASQUARED / THEORY / PRIMATE / PRIMEVIL : Seriously sick original
and George Lanham remix. Yes, more shit like this PLEASE.

BEN LONG SPACE DJZ : Retro filth, I like it.

CHRIS FINKE FLUX / PULSE RADIO (INTERNET - UK) : Oooh yeah this is a nice EP. Al's
remix is the most interesting but I'll probably be playing the original and George's more.
Cheers!

DESY BALMER NICE N NASTY / HOLD IT DOWN / TILLLATE / CONNECTED (IRELAND) :
Top sounds. Some throw backs to the good old days. Loving Ryogo's remix but all are
good. In our RA Chart.

DJ HYPERACTIVE : Industrial edge to it, nice.

MAT THE ZONE FM RADIO SHOW - FNOOB.COM (INTERNET - UK) / M2O 97 FM (ROME,

ITALY) / RADIO CITTA APERTA 88.9FM (ROME, ITALY) / THE ZONE (INTERNET - ITALY) :
Yeah! Great.

MY EVIL TWIIN : Fantastic package, will be giving the original and the George Lanham mixes
a run out!

PAUL HAMILL PSYCATRON - PLANET E / TRESOR / ELECTRIC AVENUE PODCAST -

PSYCATRON.COM (internet) / LATE NIGHT SESSIONS - RTE 2FM (DUBLIN, IRELAND) :
Heavy duty bangers. Original mix is the one I could probably get away with playing, but loved
the sound of George's mix, bet it sounds great at -8 ;-)

PAULA TEMPLE SPANK PROTEST / FRAGILE / R&S : I love Al Ferox's work - will play in my
techno sets. Ryogo Yamamori's mix will sound awesome in one of our Spank Protest sets.

SLAM (ORDE MEIKLE) SOMA : Nice techy vibes - will spin, thanx.

SURGEON : Original = cheesy & fun.

SYSTEMIC DUALITY / LABRYNTH / SUBSIST / SINGULARITY / DETACHED (LEEDS, UK) :
The original rocks, Al Ferox remix is killer also.
Catalog # 3D02
Radical G
"Wasp E.P."

Containing remixes of Al FEROX, RYOGO YAMAMORI and GEORGE LANHAM !!!!

WASP might be a short title but this one stings like a bee. Another typical release by Belgian Madman "RADICAL G" in full effect. The original was supported on Dave Clarke's Whitenoise Radioshow worldwide containing a huge acid driven bassline produced by the MOOG minitaur, "WASP " is raw, very direct and DJ friendly. Spooky efx, demonic build ups, all is there, steaming as Hell!!!