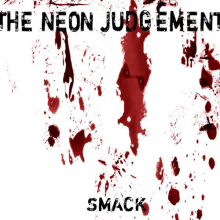 release date:
October 27, 2010
share:
Hard-copies of these and other albums can be obtained by postorder. Just CONTACT US
THE NEON JUDGEMENT
TRACKLIST

1. Smack (Radio edit)
2. The great consumer
3. I cut loose
4. The speed of sound
5. Leash
6. Hey you
7. We are confused
8. Little red shoes
9. Shiny happiness
10. Smack (Extended mix)
CD Album 2009
Catalog # DDDD07

With "Smack!", their first studio album since "Dazsoo" (1998), The Neon Judgement once again prove the relevancy of their presence on today's music scene. Here's a band that is still angry - song titles like "The Great Consumer", "Leash" and "Smack!" live up to their promise - and, most of all, still vintage Neon Judgement: recognisable yet firmly rooted in the new century, brawly and without compromise yet swinging and hopeful. It's good to know they're there.