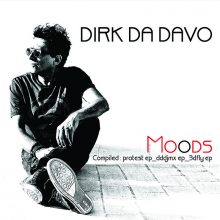 release date:
July 02, 2018
share:
DIRK DA DAVO: MOODS (cd, 2018)

Compilation of Dirk Da Davo's most recent works (digital EP releases) on this limited cd release titled MOODS!!! 12 BRAND NEW RECORDINGS + 2 surprise ghost tracks , 14 tracks in total! Don't hesitate to update your cd collection with DIRK DA DAVO's MOODS cd, we are sure that it will give more value to it!
Wholesale / distribution:
www.wool-e-shop.be
E mail: info@wool-e-shop
Label contact: info@dancedelicd.com

MOODS _ cat nr. DDD28
Mastering: CMS-Productions (Belgium) Artwork: SIMI NAH for WHY2K Graphics Photo: Joerg Schanze
Format : digipack cd + booklet
DIRK DA DAVO: MOODS
TRACKLIST

1. BOUND (PROTEST EP)
2. DENY IT (PROTEST EP)
3. GO SLO (PROTEST EP)
4. COLD HEART (PROTEST EP)
5. HERE'S RUBY (DDDJMX EP)
6. ATTACK DOGS ACHIEVE (DDDDJMX EP)
7. WE'RE SLIPPING AND SLIDING (DDDJMX EP)
8. NEW NORMALITY (DDDJMX EP)
9. HOW MUCH MORE (3DFLY EP)
10. AVALANCHE (3DFLY EP)
11. MONEY BACK (3DFLY EP)
12. MADNESS (3DFLY EP)
13. ghost track 1 / extra
14. ghost track 2 / extra
DIRK DA DAVO: MOODS ( LIMITED CD RELEASE, 2 GHOST TRACKS INCLUDED!!!)
OUT ON JULY 2nd 2018!

DIRK DA DAVO, mostly known from his past with THE NEON JUDGEMENT and on top of that pacemaker of NEON ELECTRONICS has not been on holiday after ending THE NEON JUDGEMENT in 2015. For the latest 2 years DDD focused on digital EP releases trough his label dancedelicd.com. There were PROTEST EP, Dirk's first solo work since 1987! DDDJMX EP, co - operating with the fabulous JMX aka JEAN - MARIE AERTS, amongst LUC VAN ACKER producer of The Neon Judgement's BLOOD AND THUNDER album (1989). 3DFLY EP, co - operating with MAKE MAKENA who formerly co-worked with SCREAMING TREES, THE THE , BOOTSY COLLINS and many more...