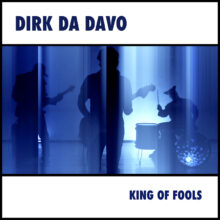 share:
Digital single release Dirk Da Davo KING OF FOOLS Available on Bandcamp audio KING OF FOOLS : december 20th 2021 Video KING OF FOOLS on You Tube: december 20th 2021 Available on all digital portals: january 17th 2022 All instruments played by Dirk Da Davo except, on bass and slide guitar: Joerg Schanze Written , produced and arranged by Dirk Da Davo @ Fuerte Sound Station Artwork by Joerg Schanze Cat nr. DDD037
DIRK DA DAVO: KING OF FOOLS
Mastering by CMS Productions, Dimitri Dewever (Belgium) All rights reserved / Sabam / dancedelicd.com / vzw neon Contact / info : info@dancedelicd.com
Dirk Da Davo (former The Neon Judgement) The first of a series of solo single releases to start 2022 with, here Dirk Da Davo takes off with the first title KING OF FOOLS, to be officialy released on january 17th 2022. From december 20th KING OF FOOLS exclusive on Bandcamp : https://dirkdadavo.bandcamp.com/ Video on You Tube on december 20th 2021 : https://www.youtube.com/DirkDaDavo Video directed by Gemma Santi. On bass and slide guitar there is Joerg Schanze and on drums Happy Kai !!! You can find the video on Dirk`s You Tube channel on december 20th: https://www.youtube.com/dirkdadavo Enjoy the ride!