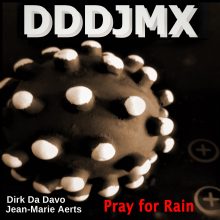 release date:
March 02, 2020
share:
DDDJMX: PRAY FOR RAIN

Out take upcoming album : OCEANED (release date april 6th 2020!)
DDDJMX:
DDDJMX are Dirk Da Davo (The Neon Judgement) & Jean-Marie Aerts (JMX) former TC Matic!
Because April 6th, DDDJMX will be back with OCEANED, a full album! And it's everything one could wish and hope for. DDD's motorik beats, pulsating riffs and mantric vocals urge songs like 'Go Ahead', 'Trail' and 'Bring It' forward, ever forward, while JMX's guitar and bass grooves, in the background and upfront, inject metallic big city soul into dance-inducing tracks like 'All Is Said' or the near-anthemic instrumental which is 'Ozz' ...
DDDJMX: PRAY FOR RAIN
DDDJMX : PRAY FOR RAIN

Written by DIRK DA DAVO - JEAN-MARIE AERTS (JMX)
Recorded at Fuerte Sound Station
Mixed by Michel 'Shelle' Dierickx
Guitar and bass : JMX
Vocals, song arrangement and additional guitar: Dirk Da Davo
Artwork: Dirk Da Davo
Mastering by Dimitri Dewever @ cms-productions (Belgium)
Cat nr DDD34