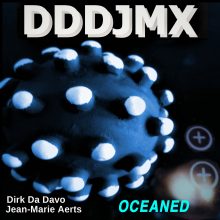 share:
DDDJMX: OCEANED
Release date april 6th 2020

DDDJMX is Dirk Da Davo (The Neon Judgement/Neon Electronics) & Jean-Marie Aerts (JMX) former TC Matic!
Because today, DDDJMX are back with OCEANED, a full album. And it's everything one could wish and hope for. DDD's motorik beats, pulsating riffs and mantric vocals urge songs like 'Go Ahead', 'Trail' and 'Bring It' forward, ever forward, while JMX's guitar and bass grooves, in the background and upfront, inject metallic big city soul into dance-inducing tracks like 'All Is Said' or the near-anthemic instrumental which is 'Ozz'. But there's more!
DDDJMX: OCEANED

TRACKLIST:
1. Pray For Rain
2. We're Slipping and Sliding
3. Go Ahead
4. All Is Said
5. Bring It
6. Here's Ruby
7. New Normality
8. Ozz
9. Attack Dogs Achieve
10.Trail

Album credits:
All tracks written by Dirk Da Davo – Jean-Marie Aerts (JMX)
Recorded at Fuerte Sound Station
JMX : guitar & bass
Dirk Da Davo: vocals, song arrangements, aditional guiters and programming
Artwork: Dirk Da Davo (with the kind assistance of Joerge Schanze)
Tracks 1+3+4+5+8+10 mixed by Michel 'Shelle' Dierickx
Tracks 2+6+7+9 mixed by Dirk Da Davo
Mastering by CMS Productions, Dimitri Dewever (Belgium)
Cat nr. DDD035 / All rights reserved / Sabam / dancedelicd / vzw neon
Contact / info : info@dancedelicd.com
DDDJMX : OCEANED
Feeding off each other's energy, both musicians expand their sonic palettes, injecting warmth and even playfulness into the songs' structures. The western twang in 'Here's Ruby' (with its beautifully unassuming backing vocals) and the subdued 'New Normality', the sinister tongue-in-cheek refrain of 'Pray For Rain' or the funky guitars in 'All Is Said' and 'Attack Dogs Achieve'... This is the sound of two people making dark, brooding electronic soul and having fun while doing so. Some thirty years after collaborating on The Neon Judgement's "Blood And Thunder", Dirk Da Davo, Jean-Marie Aerts ánd engineer Michel 'Shelle' Dierickx have made another corker!

NOTIFICATION: in connection with the album cover: any comparison with existing viruses are mere coincidence. The photo for the cover was taken 3 years ago. It is the plaything of our sweet dog 'little Bruno'. The photo / album sleeve was finished during the summer of 2019 when there were no viruses yet. This has been said!