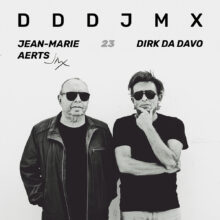 release date:
November 20, 2023
share:

DDDJMX is the project of Jean-Marie-Aerts (JMX) and Dirk Da Davo. Nothing more needs to be said.

After the release of the digital album "OCEANED " (2020) and the DDDJMX "OZZ" title appearing on Dirk's Retrospective 1987-2023 album, Dirk and Jean-Marie were together again and recorded a new digital EP titled "23".

"23" counts 4 new tracks out of five.
DDDJMX "23"

Tracklist DDDJMX "23":

1. Touch The Monkey 3.38
2. Trouble in Paradise 3.39
3. Treasures 3.41
4. Duck and Dive 3.15
5. Wow Ze Wow 4.51


The fifth track is a very special one: WOW ZE WOW! WOW ZE WOW was recorded by DDD and JMX in 1997, and released on the JMX vinyl titled "1" at the same year. So it can be considered as a pre DDDJMX recording and say no more: JMX on lead vocals!


Release date of DDJMX "23" digital EP is scheduled for november 20th 2023 via dancedelicd.com!

All songs written by Dirk Timmermans – Jean-Marie Aerts. Guitar and bass: Jean-Marie Aerts (JMX) except track 3 bass by Joerg Schanze.Vocals on track 5: JMX. Programming,vocals, keyboards, auditional guitars: Dirk Da Davo. Produced by Dirk Da Davo @ Fuerte Sound Station (Spain, 2023). Mastered by cms-productions except track 5 mastered by Michel 'Shelle' Dierickx. Digi release cat nr DDD044.