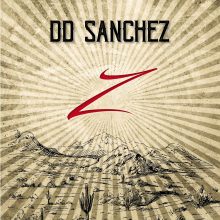 release date:
July 15, 2019
share:
DD SANCHEZ: Z

Digital 4 track EP

All instruments played by Dirk Da Davo except, on bass : SANCHEZ!
Produced and arranged by Dirk Da Davo @ Fuerte Sound Station (Spain)
Artwork by Andrés Caruncho.

Cat nr. DDD032x
DD SANCHEZ: Z
Tracklist:

Shine The Light
Rainbow
New Morning
Trouble Town
DD SANCHEZ : Z

4 track digital EP
OUT ON JULY 15th 2019 , exclusive digital release!
Biography:

Summer 2018. Dirk Da Davo, traveling trough the USA, came across a colorful figure : SANCHEZ. Sanchez, born in Mexico, raised in Las Vegas, bassplayer. DD and Sanchez met during the Burning Man Festival. Both of them talked for a while about music, and a few days later they jammed some acoustic sessions in the outlands of Mexico City. After that, 3D started to work out the electronic arrangements and vocals for these sessions and finalized the recordings they made.
They decided to name the project DD SANCHEZ and title their creation Z. I guess it was the Southern environment combined with the tequila that made these recordings sound like a kind of … dark-pop-disco!!! Shine the Light , New Morning, Trouble Town and Rainbow are the final results of these recording sessions. Be surprised!