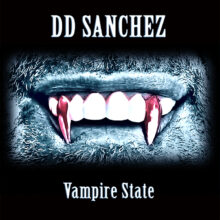 release date:
June 20, 2022
share:
DD SANCHEZ is a side kick project by DIRK DA DAVO (former The Neon Judgement) On Monday june 13th 2022 a new video single release with DD SANCHEZ ( DDD´s most happy sounding side project!) "VAMPIRE STATE" is scheduled! VAMPIRE STATE is an outtake of the upcoming DD SANCHEZ album "HAPPyGrey" (digital release scheduled for october 17th)
DD SANCHEZ: VAMPIRE STATE
Escaped from Mexico (but that is a long story! ) Mr Sanchez the Mexican bass man is back in the game! New video single coming up with DD SANCHEZ : VAMPIRE STATE Video single release exclusive You Tube (https://www.youtube.com/c/DirkDaDavo) this upcoming Monday june 13th.

Available via all digital portals on june 20th!
VAMPIRE STATE is an out take of the upcoming DD SANCHEZ full album titled "HAPPyGrey" to be digitally released on october 17th 2022.. Previous video single DD SANCHEZ " When Strangers Pass By " watch it right here: https://youtu.be/Iwd9E5emsWw
Artwork : Joerg Schanze

Cat nr DDD039 / VAMPIRE STATE