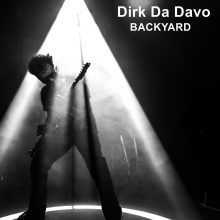 release date:
April 13, 2020
share:
Hard-copies of these and other albums can be obtained by postorder. Just CONTACT US
DIRK DA DAVO
TRACKLIST

1. Sexhead
2. The Fear in my Heart
3. Where Even Angels Fall
4. My Wild Love
5. Meat Cathedral (Meat Remix)
6. T Program
7. In Dreams
8. Teach
9. In Dreams (Hell Funky Remix)
10. Meat Cathedral
Re - release, April 13th 2020
Catalog # DDDD08

Dirk Da Davo's 8ties, early 9ties solo recordings and co-productions
Made available here as a exclusive digital release titled "BACKYARD"